How infuriating is it when you have been clothes shopping to find that you are actually a size small in one brand, a size medium in another and even a large on the odd occasion? Well that example is actually me. How can I span from a size small to large…I just don't get it. Well there is now a solution to this problem in the form of an app which helps you with these odd sizing issues and it's called EyeFitU. EyeFitU was developed to address the lack of uniformity in fashion, one which I'm supporting via their #OneSizeFitsNone campaign.
I feel that I'm quite a typical shopper in this modern age, spreading my time between shopping online and shopping on the high street with an emphasis on wanting to shop as quickly and efficiently as possible.
Take my typical online shopping experience. I'll open about 10 internet browser tabs, one for each of my favourite brands, browsing their collections trying to find an outfit or outfits in the shortest possible time. What tends to happen is I'll end up with about 30 tabs open with all sorts of items of clothing that I love. I'll then have a coffee, come back to it and close those tabs that I don't actually want. Finally I'm at the point where I have a few items from different online fashion retailers and it is time to choose sizes and checkout, which is when things get tricky.
Do I…
Order everything in a small, medium and large to ensure I will get the correct size? Probably not; Just refer back to my second paragraph, where I like shopping to be quick and easy. I'm not a big fan of ordering every size because when it comes to the returns you'll be stuck in a ridiculously busy post office sending back a big box of clothing – not a very efficient use of time in my eyes. There is another issue with buying every size and that's financial. I mean who has the money to buy every size and you might get the refund weeks later, by that time I've already maxed out my overdraft and incurred penalty fees. No thanks.
Do I…
Read through each brands size guide and try to figure out exactly what size is best for me from each different fashion retailer that I'm buying from. I mean, I could do this, but that's a massive time killer and again refer to paragraph 2. No thanks.
Do I…
Guess. Actually this is normally what I do. If I've had a big fry-up for breakfast that morning, I might psychologically choose a larger size than if I have had a handful of chia and pumpkin seeds!
I don't fair much better when shopping on the high street if I'm honest. Walking from shop to shop in a fast paced, almost jog, weaving in and out of the annoying slow walkers as I've always got something more important to do. I'll then hit a few shops, pick out clothes and try them on for size right? Wrong! Who else checks sizing by just holding the clothing (still on the hanger) up to their body…1,2,3,4, okay most of us! I'll then get home and realise that nothing fits.
If you watched my Instagram Stories yesterday, you would have seen my EyeFitU challenge, which was to find a holiday outfit using high street stores in 20 minutes and then using their app in 20 minutes. Here are my findings:
Firstly I started my journey off at Covent Garden tube station in London, set my timer for 20 minutes and away I went, briskly walking towards COS. On a busy afternoon a couple of minutes were lost already just getting to the shop. With time to make up, I found that when browsing items even in the same store the sizing between shirts & t-shirts can vary and with my stopwatch ticking there was no time to try anything on. At this point I'm doing my usual guessing sizes or buying way too much to make up for it. 12 minutes in and I have visited one retailer, then, typical there is a queue at the checkouts, not a massive queue but still took another 4 minutes of my allotted 20 to queue, pay and pack my items. With a few minutes left, I headed over to Reiss, which I browsed a few items before the 20 minutes was up…boy that went quick!
My 20 minutes using the EyeFitU app started as I entered a local coffee shop, ordered a coffee and sat down a little perspired from my 20 minute high street challenge! Time to open the app and get shopping. Please note that I already downloaded the app and inputted my measurements prior to this challenge. The first thing I did was to select my favourite few brands in the app so when searching for an outfit, these brands would show up in my search list first. From that moment on, in-between sipping my flat white coffee and feeling pretty relaxed, I just browsed quickly and easily, using the 'My Size' filter which just shows you products in your exact size. Within minutes I had chosen a perfect holiday outfit, gone through the checkout process and even had time to order an extra chocolate croissant.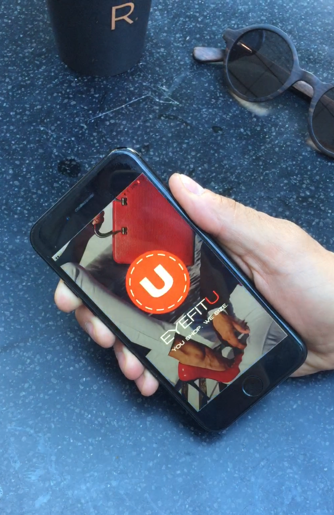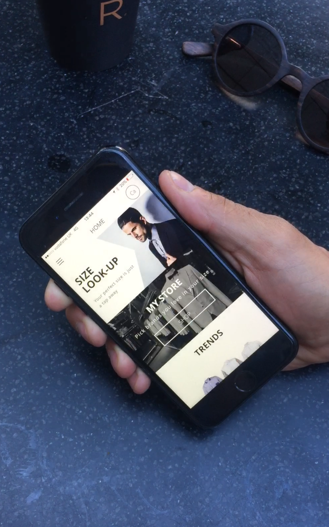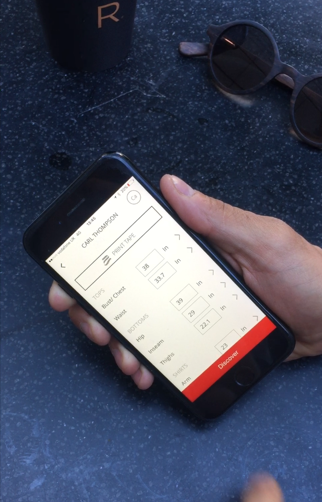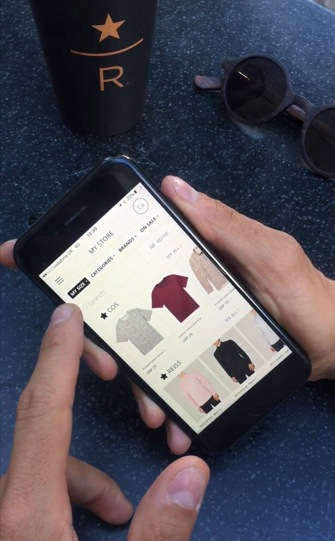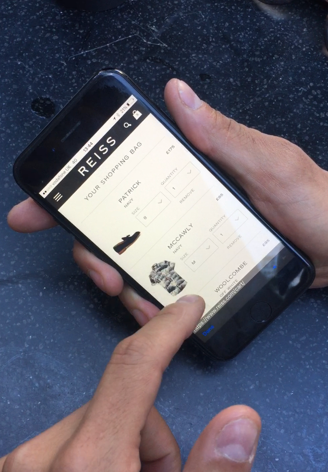 You'll see that in my high street outfit there is no-cohesion in the styling and the sizing was actually wrong too, out of 3 pieces, 2 didn't fit perfectly. However with the EyeFitU outfit, the styling is much better as shopping using the EyeFitU app I didn't have to worry about selecting the right size (as the app does that for you), I had more time to concentrate on the style choices and outfit as a whole.
EyeFitU is the perfect solution to these everyday daily shopping struggles, which you can use for referencing to get the perfect size for you across multiple fashion retailers. Or you can even shop directly from the EyeFitU app making the whole process even more seamless, time saving and stress-free. EyeFitU matches users' profiles and measurements with the brands own size charts so shoppers can be sure of always getting the right fit.
Photography by Ella H
*This post was created in collaboration with EyeFitU*